FUTORO'S Fire Safety - Musical Story CD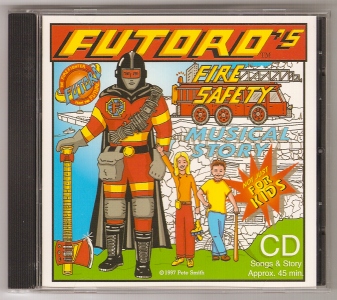 You know how much your children love Superheros... and Fire Fighters too! That's Futoro! The Firefighter from the Future! Armed with his magical, musical ax, Futoro's pop/rock songs and story will teach your children the basics of Fire Safety in a FUN and EFFECTIVE manner.
The Futoro Fire Safety CD introduces children to six basic fire safety concepts in one exciting Musical Story!

---
FUTORO's Fire Safety CD program guide:
1. Prologue (futoro Leaves His Planet
2. SONG: "Futoro Theme"
3. Johnny and Allison Meet Futoro
4. SONG: "Meet Me At The Tree"
7. Mom In the Kitchen
8. SONG: "Crawling"
9. Let's Go To Cave
10. SONG: "Futoro Theme (Instrumental)"
13. Matches Are Tools Not Toys
14. SONG: "Don't Play With Matches"
15. Allison Thinks
16. SONG: "Smoke Detectors"
17. Where's Futoro? Fire In Buggersville
18. SONG: "Futoro Theme"
19. BONUS SONG: "Seatbelts"