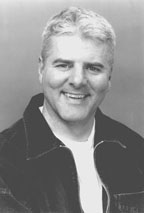 "Futoro" was created by Pete Smith, a professional fire fighter in New Jersey, who is also an artist, a musician, and an actor.
In 2001, he was awarded the "Firefighter Of The Year" award from both the Chamber Of Commerce, and the Rotary Club in his community, for his efforts in Fire Safety.
Smith began his musical firefighting career in 1986 when he and fellow Firefighter Chris Daniels, along with Pete's brother Vin Smith, formed an original rock trio called The PAWNS. Smith then went on to produce his first original fire safety music cassette in 1989.
His current "Futoro's Fire Safety CD" and Coloring Book took almost 3 years, from concept to completion.
Pete Smith is a member of the New Jersey Firemen's Mutual Benevolent Association; the International Association of Fire Fighters; the Actors Equity Association, and the Songwriters Guild of America.
Smith resides in Sussex County, NJ.